How you can incorporate trending twitter topics into your social media strategy
Jump on the latest Twitter trend!
When you go on Twitter, you're going to see a ton of posts in your feed that are directly related to the latest twitter trends. Whether that's #motivationalmonday or #internationalcatday entirely depends on the day and the overall power of the Twitter Gods, but if you prefer posting sporadically, rather than having it all scheduled into one neat package, then the latest Twitter trends can be a bit of a God-send.
So, if you're interested in starting up a Twitter page for your brand, it's time for you to learn all about the power of #trendingtopics.
What are the trending topics on Twitter?
According to Vanessa Doctor, a writer from #hashtags.org,
"A trend on Twitter refers to a hashtag-driven topic that is immediately popular at a particular time."
The trends come from Twitter algorithms that keep an eye on relevant topics and pushes them up so that they are seen by a wider audience. These hashtags are based on a global audience or they can be based entirely on your personal preference. The trending list is more likely to be relevant to the communities that you are involved with.
To join a trend, all you need to do is make a post that has the exact hashtag in. Make sure that your post is relevant to the topic and then it will be included in a long list. Just keep in mind that tweets that carry a hashtag that is not relevant to the topic, or ones that are created by marketers to abuse the #trendingtopic system are likely to be filtered out. So, make sure to keep an eye on Twitter's rules and make sure to pick twitter trends that are relevant to you and your business.
Incorporating Twitter trends into your marketing plans
Any good social marketer will understand how powerful hashtags are when it comes to your advertising. That's why you need to remember that you can't just spam hashtags all over the place. Think of hashtags as an opportunity to join a large conversation and encourage others to speak to you. You need to monitor the most appropriate Twitter trends and see which are most relevant to your business.
Here is a great video (by Six Figure Mastermind) to get you started if you want to learn how to hashtag properly:
However, if you are looking for a few tips on how you can get into the swing of hashtagging, here is some advice so you can deliver some quality tweets to your viewers:
Keep an eye on daily topics
Your daily digital marketing strategy needs to have a mixed approach to scheduled and unscheduled tweets. That's why it's important to anticipate new topics that might pop up on Twitter. For instance, if #internationalcatday appeared, how would you handle it? If you are a business with a cat then that's great! Just put a picture up. But if you don't then you need to start thinking outside of the box. Add some cat ears to your logo and see what happens! It's relevant and keeps you in the conversation.
Authenticity
Remember that you are more than just a business. It's important to look genuine with your tweets. Even when there is pressure to deliver before the trend goes stale, you need to look at the trends that will fit your audience. Recurring trends will allow you to create tweets in advance whilst still being able to jump on top of the random ones that might fit your business.
Right Fit
Trending topics come and go on a daily/hourly basis. Don't worry if you can't catch them all at once. It's better to wait for a trend that you can jump on that fits your audience perfectly. Your brand needs to show that it has standards, so don't just post for the sake of posting. Too many twitter trends will make you look like you are trying too hard. So, try your best to pick and choose the ones that fit you and your audience. That way you can create some quality posts and keep your audience interested.
The Power of Generic Tags
So, when you jump on board the twitter trend train, you may immediately think that you make your twitter tags extremely specific. That way they can relate to your business and make them extremely personal. But honestly, you are not going to get views that way. Instead, why not just use generic relatable tags? That way your post will become more viewable and people will be able to easily relate to it. This is extremely effective if you are relating it to an entertainment post and are wanting to encourage people to share their experiences. These sort of tags are the perfect things if you are looking to start spearheading your campaign.
Respond to your comments
If you are using a hashtag to join in on a conversation, don't be surprised when people start commenting on your post. Just don't forget to keep your responses high quality. If you just use an emoji or thank someone then Twitter is going to filter out your response. Try and add value to every post you make for it to be seen by your audience.
Ask people to join in on a tag!
Hashtags are all about getting people to interact with your brand. You're jumping on a bandwagon and want to entertain the people who see your posts. However, what if you tried to design your hashtag? This can be tricky if you try to subtly insert a hashtag into your posts. So, instead, why not just ask people to directly use a tag? If you are hosting a competition or are asking a question, why not ask people to respond to you using the #hashtagtrend? It can be as simple as "Have you had a problem with X lately? Let us know using the #hashtagtrend." It may take a little while to get off the floor to start with. But if you keep persisting with these hashtags as your audience grows, you will be able to start interacting efficiently with your audience.
Are you ready to use #HASHTAGS?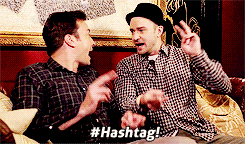 Source: Tumblr/RyanSeaCrest
There is something really fun about being able to use hashtags on Twitter. Namely, it's because the topics that they bring up tend to be wild, whacky and completely out of the box. As long as you keep the posts relevant to your brand and also incorporate a daily uploading schedule, you can get a lot of audience interaction out of them. So, why not get started on them today?
The Website Store's SEO team can give you solid advice and SEO strategies to make sure your SEO social media campaign gets your company the attention it deserves. Contact us today to get started!
Until next time~
Hannah
Content Writing Team