Why have your SEO rankings dropped?
Are you having a bad SERP day?
It's important to think of a drop in your rankings as not necessarily a bad thing. True, it can make you feel a little gloomy that your hard work on your website has gone to waste. But it's important to look at it from Google's perspective.
Google is just giving you a bit of tough love. It's not saying to you that your work is necessarily bad. It's just giving some helpful hints on how your website can improve. Think of it as a way for your content, UX and SEO strategies to get better. You just need to know how you can make sure that your pages and website can recover. Before we go into the reasons why your website has dropped, let's start by learning how you can research why your website dropped in the first place.
How to assess what went wrong with your Website's ranking
Now that you have settled down from panic mode, you need to start your research on what could have made your ranking drop. Yes, you can download SEO software that can help you track your pages and see their traffic levels, such as SEMRushand Screaming Frog. These are great tools to see if anything is missing on your pages, such as alt tags or meta descriptions. But the real treasure you are going to be using all the time is Google Analytics.
How can Google Analytics help me?
Google ranking is a tracker that can show you how well your pages are doing in terms of its organic traffic. Organic traffic, aka. direct traffic to your website is going to be the most useful for seeing what pages are doing well and which pages are doing work.
Once you have entered the dashboard, you will see a live tracker of how much traffic your website is getting. You can enter unique pages and see how well it is doing in terms of views and bounce rate. If a page is doing badly in Google analytics, then that could be the answer to why your website has dropped.
Take detailed notes on the different pages of your website, including what's good about them and what is bad. The more you know the more likely that you can fix them. The faster you fix them, in terms of large and small problems, the more likely that your website's position will improve.
The main reasons why your SEO rankings may have dropped
Now we are going to get into the meat of this blog. Your rankings have dropped and you want to know the reasons why. Well, here are some of the main reasons why your SERP has lowered. Hopefully, this blog will solve the mystery of your SEO problems and help you move forward with your future strategies.
Reason 1: On-Page Issues
It's never a nice feeling knowing that your website is falling behind its competition. You may have tried to create fresh content and implement some fierce link building techniques, but your on-page issues remain. On-page issues tend to be small but you still need to have them fixed. You could have broken links and images, bad internal links or HTTP web addresses instead of HTTPS. Heck, your website might have even been hacked. Either way, this means that there's a high chance that you're going to start falling behind your competition.
To fix it, go and look at your Google Analytics and check out which pages are your weakest. Once done then it's time to do an audit on them to see what smaller problems exist that you can fix. Change up any broken links, missing alt tags or meta descriptions. The more small changes you make, the more likely that Google will raise your ranking.
Reason 2: Manual Google Penalties
Unfortunately, these are the most common types of ranking drops and they can hit your website quite hard. Google is lenient on websites that have just started, but this is so you can populate your website with appropriate content. However, if you have found that Google has suddenly dropped your website on a lower page ranking, there is something on your page that is making your page lose authority. This could include:
Keyword spam
Unnatural links
Over-use of Links
Duplicate content
Broken images
To fix this, it's time to give your website an SEO makeover. Look for potential problems like missing alt-tags, spammy text and duplicate content. You may even want to consider giving your pages a design makeover to make sure it looks more user-friendly, especially if you are looking into making your website mobile-friendly.
Reason 3: Lost Links
It's always a pain for any SEO technician to lose a well-earned backlink. After all, it can cause quite a bad dip in your website's ranking if your website's inbound link suddenly doesn't work. It affects your authority over your subject and makes your website looks messy. Make sure to keep an eye on the links your implement. That way you can weed out any broken ones and replace them effectively.
Reason 4: Competition
No matter how many strategies you implement, your competition is going to want to try and steal your SERP online. You will see other websites try out new strategies that rise above you and cause them to fall. When they do succeed in improving their ranking over yours, its important to keep an eye on the sort of strategies that they implement. If they do something new on their website, try and implement a similar strategy on your own. Just make sure that you do not just outright copy it.
Reason 5: Google Algorithm Update
Now, a Google flux is the sort of thing that will either cause a large drop in your ranking or just a small drop. Unfortunately, you do not have much control over this sort of update. Instead, you need to look into how big the update is and whether Google is giving out any sort of advice on how you can handle it. That's why it's important to watch the Google Author Liasion twitter. You will also need to make sure that your chosen keywords still rank.
How are you going to fix your SEO?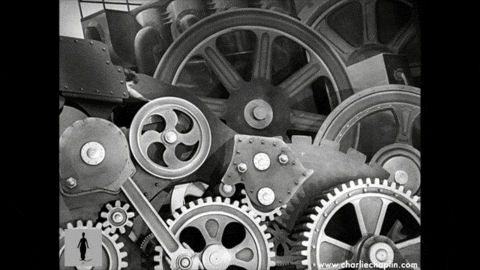 Source:Giphy/Charlie Chaplin Official
It's important to consider your SEO strategy if you want to get your website noticed by the right people. There is a reason why so many people joke about the idea of no one going to the third page of Google's search results. It's because it's true. Don't let your ranking slip away. If you notice a problem, it's time for you to fix it ASAP. Either that or talk to The Website Store about your problem. We can help you out!
Until next time~
Hannah
Content Writing Team