Does your website have a solid social media strategy?
Social media will help your website be seen and heard!
Congratulations! You've got a flourishing website that seems to be developing a small following of loyal customers who are obsessed with getting your latest products. However, you're starting to feel like your website is all brand and no "bite", well, at least not in the literal sense. No, you're starting to worry that your company looks like a robotic company that does not care for its customers. Sure, you've got a high click rate on your page and your email adverts are converting nicely due to your brand new emoji-based ad campaign. You're quirky and hip and ready to take on the world. But something is missing.
Well, that "something" is social media. What is not to love about it? We use it in our normal private lives to document what we eat, our political thoughts and to answer our friend's questions. So, why can't we start using it for our businesses as well? If you are looking to expand your business then you need to learn how you can use your social media like a pro so that you can start engaging with your audience.
Your primary social checklist
You need to resist the idea of immediately jumping into your social media plan. Yes, you will need to create a monthly plan of what to post, and a great example of how to do this is through this article by Peg Fitzpatrick, but before that, you need to do some background research. Here is what you should be thinking of:
Your main targets
The first thing you need to know about social media is that it's not just about haphazardly posting random things, nor is it just about adding promotional posts to try and sell your products to people who stumble across your social media. It's about actually developing a social media strategy that will support your website and encourage people to interact with your brand. You need to stand out as an individual and have a voice that can differentiate you from the others who work within your industry.
To create a social media presence you need to think of target goals that you want to aim towards. This will help you develop your voice when you finally start posting. Some examples of aims might be:
Help improve brand awareness
Create direct traffic to your website
Interact with customers and build up brand loyalty
To educate and inform
To advertise and increase revenue
Convert clicks and listen to feedback about your brand
If you have more than one social media goal, don't worry, that is completely fine! Most social media gurus tend to have several different aims that are distributed between the social media team as a whole. If you are the only one working on your social media, start with one or two so that you get to grips with social media. Then you can branch out with different goals in the future.
Consume and Distribute
Now, a cardinal sin that tends to happen with content writing in general, whether that be for blog posts or social media, is that people start to write without a purpose. This sort of random content spamming is just as bad in the social media world, as it is on your blog. Think of it this way, why would someone share your content if it's not interesting or helpful? There is no reason why they would do it.
That's why it's important to keep your posts informative and educational. Don't just focus on your brand. Focus on what can keep your company relevant in its industry. If you have a voice then use it to humanise your brand. People want to interact with a human being, not just a robot. Social media is the perfect thing to personalise your company and give it a new edge over its competition.
Which social media platforms are you going to use?
Remember, you can use as many social media platforms as you want, but each has its strengths and weaknesses. Here are your options:
You can start with either one of these social media or you can focus on several. It's best to start with a stable number that you know you can handle. The best options are either Twitter, Facebook or Instagram. Keep in mind that you may want to use Instagram and Facebook together as both have intertwining content.
QUICK TIP: Make sure that you pick a platform which makes sharing simple and allows you to tag people in your posts. This way you can increase your chance of your content being seen. Make sure you also include #hashtags if you are on Twitter!
Your target audience
Another thing that you need to consider when you're updating your social media is your target audience. If you are working in a specific niche then you will have a specific audience that will be interested in your product. For instance, if you work in holiday work, you may be targeting families or newlyweds.
So, to figure out what your audience is, consider these questions:
What sort of people are looking up your brand (i.e. job, age, salary)
What does your audience want? (aka. your products, entertainment, education content, information)
Which social platforms do they normally use?
What times do they go on social media?
Why would they look at your content?
What sort of content do they like (e.g. photos, writing, social media posts, videos…)
Once you have answered those questions and know precisely who you are targeting towards, it's time for you to consider how much you are going to upload.
Uploading Times
With so much freedom on social media comes the temptation to spam as many posts as possible. But in reality, according to louiseM, you should only post this much:
Facebook: Once a day
Twitter: 3 – 15 posts a day
Pinterest: 3 – 11 posts a day
Instagram: 1-2 posts a day
LinkedIn: Twice a week
Youtube: 1-2 posts a week (depending on your timetable)
The best times to post your content is actually about a worker's day. Post in the morning during the daily commute (about 8-9am), once at lunchtime (about 12 pm – 1 pm) and once more after tea time (after 7 pm). These are the optimum sharing times to make sure that you get someone looking at your posts.
Targeted Content
Now that you have the basics out of the way, it's time for you to plan your content! This tends to be the fun part as it can allow your creativity to shine. Just make sure that you create your content with your audience in mind. You can repurpose content to make sure it reaches numerous people, just ensure that you have a voice that stands out amongst your competitors.
Remember to post with purpose and Engage, Inform and Excite. Better yet, if you add some interactive content to your feed, in the form of videos or games, this is more likely to be shared around on social media. So, don't just reuse the same old stock picture again and again. Be creative with your marketing. You should be using around 70% engaging content and 30% promotional content.
The trick to creating good content is to offer something that feels personalised to your audience. Perhaps it could be an infographic, a study on your specific area, or perhaps even something funny that people would be willing to reshare and show to their friends. Once you know the sort of audience you will be targeting then your content will take off the grand.
TOP TIP: Don't forget to share your blogs and the latest content on your WordPress website! This is a great way to get people to interact with your other pages on the internet.
Trend following and research
Another great way to make sure your content becomes visible. If you know that a specific meme is trending, for instance, the Area 51 meme has become trendy to share this month (July 2019), then don't be afraid to add your twist on it. That way you join the biggest trends to hit the internet. You should also consider looking at the hashtag trend section of Twitter. This can give you clues as to what sort of content is more likely to be shared on that day.
You should always do your research before you make up a post. Research into Google analytics or explore your feed to see who is sharing what. As long as your posts always remain relevant to your audience then you can post whatever you like!
Additional Strategies
Of course, if you want to do a little extra work on your social media, and are willing to put the time in, you may want to indulge in a little "Social Listening", where you can look into your social media name online and see if there are any posts that need your main page to be tagged in. This way you can remain relevant and also get a look at the sort of feedback you are receiving. You can also use linkbait, which capitalizes on a strong, relevant topic, but allows you to add your input and information in about the issue. You can also create content that allows you to play "devil's advocate" to encourage people to prove you wrong.
Your Social Media Schedule
Now that you know what sort of content to post, it's time for you to make a marketing schedule to ensure that you know exactly what needs to be posted in the upcoming week. Professional social media marketing teams tend to focus on the full month, but if you new to social media, why not try out different posts for a week and see what happens? If you keep an eye on your metrics then you can see what type of posts work and what should be scrapped. Don't be afraid to start again your content plan. That way you can improve your strategy.
Try organising your social media calendar by day. Have around 3-5 posts lined up so you know exactly when they need to be posted. Have the time written out when they should be posted alongside the tagline and the content idea itself. If you need to research the trends of the day, make sure you set in enough time so that you can write up a blog or create relevant content that is easily shareable.
Social Media should never be stagnant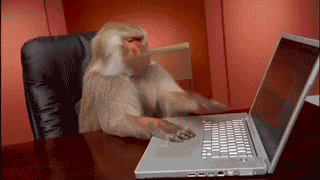 Source: Reddit/Gifs
Once you have started your social media plans, it's the sort of thing that can't stop. Every day will mean that you need to think of something new to upload to keep your business relevant. Just make sure that you put some time and thought into your plan before you get started.
Good Luck!
Hannah
Content Writing Team