Taking risks with your content
Don't dull yourself down. Liven things up!
If you're looking for a way to kill your website through a long, slow and highly drawn-out death, then writing generic content is exactly the way to do it. You've probably seen a million articles out there on the internet with the same formula over and over again. It's the same old formula that is good if you want a few followers to stop on your page. But it's not exactly a digital marketing strategy that will get a loyal following. That's why it's time for you to start taking some risks whilst writing your content.
Risk = Research
Google does rank your website based on your bespoke/unique content. That's why you may be considering how you can think outside of the box. Anyone can think of a blog and use a few h1s or h2s. However, with the interactive content trend well underway (and having no chance of stopping), it's time to take your content to a whole new level.
That's why it's important to start trying new things with your content. Why you may ask? Well, it's to make sure that your content does not go stale. Stay ahead of the competition by doing your research and planning out your means of attack. A safe marketing strategy might give you a good flow of customers but may not turn out well in the long run. After all, you will just look like another large corporate business that doesn't care about their customers.
By pursuing new strategies with your content, you are more likely to find content techniques that will add a personal touch to your website. More risks mean that you are likely to find your voice and speak to your clients in a way that is friendly and understandable.
Standing out from your competition
Whether you write content for your company's social media or on your website, you need to have a firm voice to attract customers to your webpages. Now, one thing that is going to make you stand out is the idea of making your voice sound "human", aka. like it is a person behind the screen and isn't just a robot. It's important to be friendly, humourous and make sure that you don't sound too "clever", as this can come over as obnoxious. The simpler you sound, the easier it will be for your content to be absorbed.
Your competitions marketing tactics
If you are a social media guru, you may have known about the amazing marketing strategy that happened from Wendys vs its fast-food competitors. Instead of just acting like another big business, they took a step out of the box and began to write witty comeback and pure burns to people who tried to insult them. This is what set them apart from their competition. They were willing to act "human" and their sense of humour managed to get them noticed with posts like this:
Ever since then, companies have been trying to copy the same sort of witty retorts, but none have lived up to Wendys as of yet.
The main lesson behind this is to try and do something that is outside of the box that will catch everyone's attention. Some of these risky strategies may fail but as long as you keep them relatively respectful then it won't make a difference. Just lick your wounds and move onto your next idea.
Unique ideas to focus on
One of the best places you can grow your company's image without it impeding on your customers accessing important information about your firm is on your blog page or through your social media. Here is where you can focus entirely on specific topics and nail them down precisely for your customers. Your new content could include:
Bold predictions for your industry/business (aka. what sort technologies are going to go out of date or what sort of government policies are likely to affect your business)</p)
Controversial Topics (aka. topics that most people in your industry ignore altogether)
Small updates that give an insight into the mindset of the company- Jump onto social media and try out new platforms to see if you can add a "human" appearance to your brand
Experiment with stories and information about your brand- Think about what sort of campaigns can add a new twist to your business
Images, audio and interactive content
If you go outside of the box and take a risk then you won't appear as conservative as you may have with a dull strategy. Instead, you will have more visibility, interest and a better reputation online.
Don't just jump in
It is always exciting when you think of a brand new content strategy. However, this is not exactly the time to dive straight into it. Remember that you may be creating new content, but at the same time, you need to keep an eye on what you post. You're deviating from the norm of posting. Therefore you need to see if it gets the attention you want, including the metrics and bounce rate. If it gets the results then you should continue using the same method. It turns people away then it's time to think of a completely different strategy to try out.
Make sure to plan out everything you are going to write and think about the risks that might come along with your strategy, such as whether or not your new writing style might alienate your old, loyal clients.
Does your plan make sense?
When you think about your content marketing strategy, you mustn't be just posting things at random so that you get a reaction out of people. After a while, this sort of campaigning can go off cause and can make you lose credibility. Track the metrics of your different content campaigns and don't be afraid to try something new if one or two of them are not working. At the end of the day, if you make a mistake then it's not the end of the world. Just try out something new and consider how helpful your latest posts are.
Quick Tip: Make sure to always test run your content! That way you can track how well it works
Your content is your choice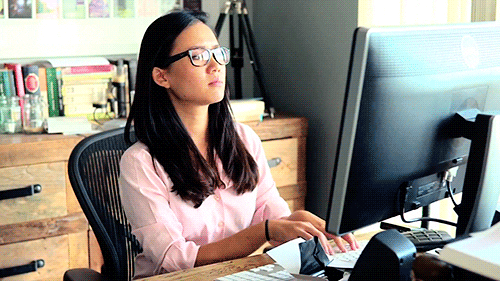 Source: Tumblr/heckyeah reaction gifs
Taking a risk with your content can make you feel nervous. After all, your website is your baby and you probably hate the idea of it going wrong. But, if you don't put your website under fire from time to time then you won't get any improvement. Try out something new. Better yet, if you contact our SEO department then we can advise you on the best way forward and how you can start thinking of some truly bespoke content to improve your brand image.
Until next time~
Hannah
Content Writing Team