What is the purpose behind your content?
Are you starting to run out of content ideas?
It's a hard job being a content writer. I mean I am speaking from experience, but honestly, it can be very difficult to keep your content fresh and interesting. Nowadays, you can do one little search on Google and find everything you want to know at the drop of a hat. That's why it's important to have content on your website that keeps your website relevant and interesting.
Yes, you may be struggling to think of good topics to write about, but it's no harder than the job of the rest of us content writers. Take a look at the different pages on your website. How relevant do you think your content is to your website? It's really important to make sure that you are always answering a specific question and that you are addressing the needs of your clients. That way you can make sure that your pages always are relevant and interesting for the people who find them.
If you want people to read your content, it might be time to start employing a good content marketing strategy to ensure that you are always writing with a purpose.
What are your products?
Before you even think about writing any sort of content, it's time for you to think about your business brand as a whole. What sort of things are you trying to sell your clients? It's important for you to identify your audience, as well as what they will expect to hear from you like your products owner. Once you have identified this then it's important to think about which products will appeal to different people.
The reason behind all of this planning? Well, you're trying to ultimately get into the mindset of your customers as a whole. That's the very essence of digital marketing as a whole, to try and figure out what your clients want YOU to sell to THEM. The more you understand about your clients the better.
So how do I find out what content my clients need?
Honestly, the best way to do this is to mind map out your business and website. Let's create an example. We have a website called "Hannah's Hairstyles." You're going to have your homepage but what else are you going to have? Well, it's time to mind map this out.
Okay, so here you can see all of the pages that I want to have for my hairdressing store. Each of them starts with a major topic, but on the pages, there needs to be more information than just the basics. Let's take the idea of "hair cuts" and see how many sub-topics we can come up with. Try and put yourself in your audience's shoes and consider what they want to know:
Hair Cuts
What kind of hair cuts do we offer?
Our customer's favourite haircuts
What kind of hair cuts can we offer for long/medium/short hair?
Do we do special haircuts?
Do we curl, straighten or perm hair?
What sort of products do we use on your hair?
What kind of hair treatments do you offer?
How much does it cost for your hair cuts?
How can I look after my hair after you have cut it?
Do you dye hair?
How long does it take for a hair session?
As you can tell there are a lot of options for you to write about. However, have you also noticed that there are topics that interweave with your other major headings? If you have, well, that's great, because these can be the perfect things to use some internal links for. Give them a snippet of information and then provide them with more detail on your actual page.
Try and keep your content as relevant to your main page as possible. Think about what your clients want and go from there. Whilst you are here, why don't you use the rest of the subheadings as a practice round? If you were opening a hairdressing shop, what would you write for those other pages on your website?
Quick Tip:
It's important to create your content like it is on a FAQ page. If you keep the writing short and sweet, this will retain your readers' interest.
The main purpose of your content
Every business is unique and has different ideas that they want to get through to their audience. However, when you're writing up your content, you need to remember that it needs to be:
Informative
Educational
Engaging
Relevant
Unique
Stick to these rules when you write your content and always go back to proofread. If you can highlight exactly where you address each of these themes then you will know that you are writing with a purpose. That will make sure that it's helpful for your readers.
The problem of "unpurposed" content
One of the main problems that come along with bland content is that no one will want to read it. Yes, this sounds a little harsh. But honestly, if your content is just adding to the general spam of the internet, does it deserve to rank for its keywords? Probably not.
Your readers want to be interested in what you have to say. But if what you have to say isn't helpful to them, or they can find it somewhere else, then they will choose the latter option. Even your blogs need to have an overriding message to them. Whilst it's nice to think that you can write about anything you want, at the end of the day your website is a business, and your blog is a business blog. That means you need to make sure that all of your writing does add to the buy-ability of your products. WPCurve, a marketing blog, has even stated that:
"great content marketing involves writing about your customer's problems and providing them with solutions."
This ultimately means that if you want traffic on your pages, you need to make sure you're writing about the things that your clients genuinely need to know.
Don't spam content!
You always get a good feeling when you upload a new piece of content or a new blog. But sometimes you may find that it's doing less good than you think. Don't just spam content for the sake of uploading. This detracts from your website's main message and can lead to your readers becoming confused, especially if you write about the same things twice on different pages.
Instead, follow the rule that "less is more." Meaty posts are better than wafer-thin explanations, so only upload content when you have to. Only do as much as necessary.
What are you going to write about?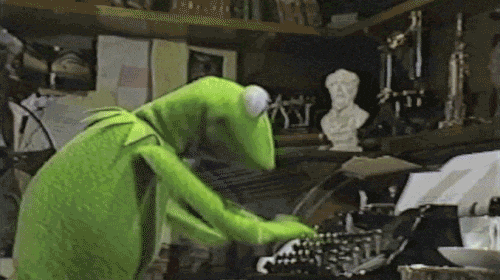 Source: Reddit/reactiongifs
You can be the best content writer in the world and still fall into the trap of writing without a purpose. Honestly, it's not too bad if it's on a blog, but it can be a pitfall if your writing extends to the rest of your website. So, take a moment to consider what your website needs and how you can provide that through your content. The more relevant you are to your readers, the better it will be.
Happy writing!
Hannah
Content Writing Team